Paella with Spanish Passion Paella Spice Mix
by Dianne Raisbeck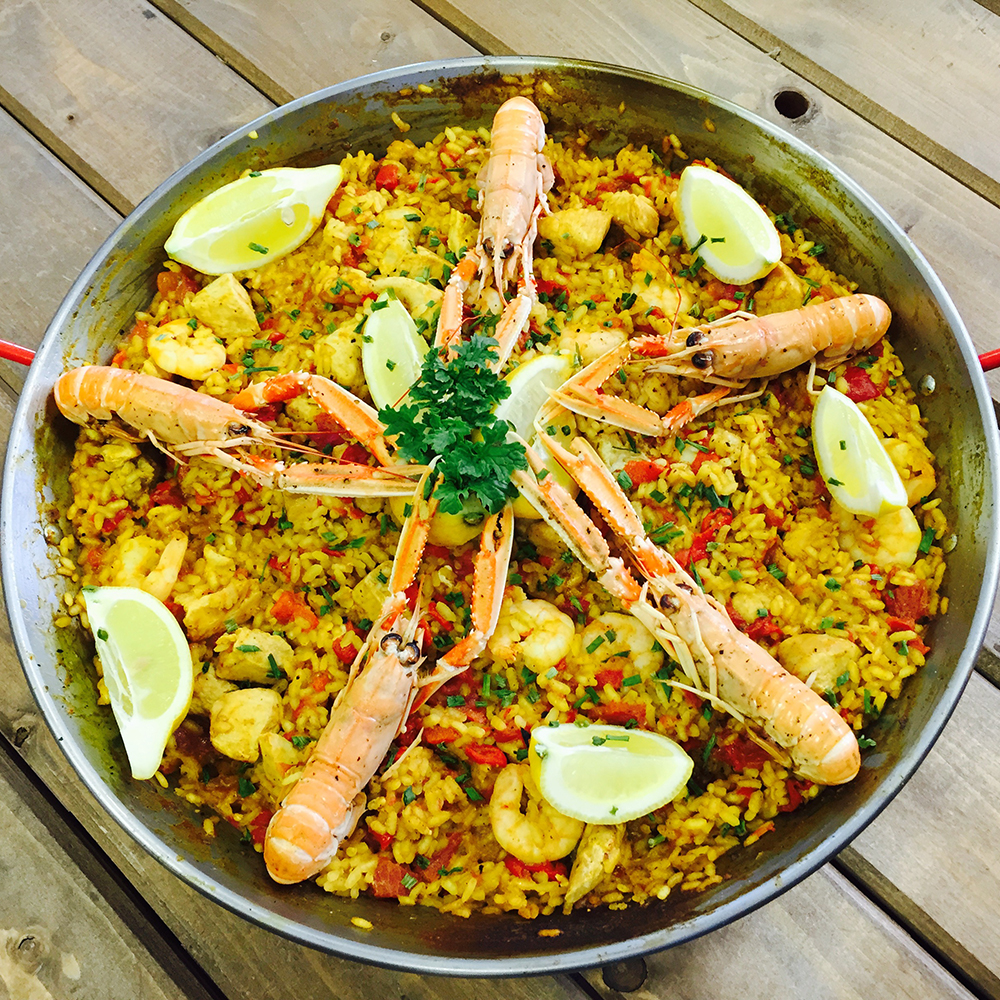 Print Recipe
INGREDIENTS TO GET READY

4 tablespoons of Spanish Passion Olive Oil

1 medium onion: slided

300g chicken breast diced

1 jar Spanish Piquillo Peppers with Garlic

300g Spanish Passion Bomba Rice 

1-2 Tablespoons of Spanish Passion Paella Spice Mix

1.5 Litres Hot Chicken or Vegetable stock (fresh or 3 stock cubes)

1 jar Spanish Passion Hand-Peeled Pear Tomatoes

200 grams Peas (fresh or frozen)

250 grams Prawns (fresh or frozen)

1 Lemon: juice & zest

1 bunch Coriander and / or Parsley: roughly chopped (reserve a little for garnish)

Season as required
PUT IT TOGETHER

1. Drain and finely chop the Tomatoes retaining the juice for additional stock

2. Heat the Olive Oil in the Paella Pan on a medium heat and add the Sliced Onions, cook until tender making sure they don't brown

3. Add the Diced Chicken to the Onions and cook until lightly browned on all sides. Add the Oil from the jar of Spanish Passion Piquillo Peppers keeping the Peppers for later.

4. Sprinkle the Paella Rice evenly over the Chicken & Onions allowing the Rice to absorb the Oil for about a minute, gently mixing and coating the Rice.

5. Add a Tablespoon of Spanish Passion Paella Spice Mix and stir gently allowing the Rice to toast for a few minutes to release some of the starch.

6. Add about 500ml of boiling hot Chicken Stock. It should bubble and steam immediately it goes into the pan.

7. Add the Chopped Pear Tomatoes and the Piquillo Peppers with Garlic.

8. Simmer for about 15 minutes stirring gently while frequently adding more of the Stock. It is important that the Rice does not become dry.

9. After about 15 minutes taste the Rice. The texture you are looking for is Al dente.

10. Add the Peas, Prawns and another tablespoon of the Paella Spice Mix (if desired). Add half the grated Lemon Zest and Lemon Juice and cook for a further 5 minutes.

11. Add the chopped Parsley and Coriander mixing through gently. Check the seasoning and adjust to taste.

12. Just before serving dress with Coriander/Parsley and the Lemon Zest and Juice.
Recipe Cuisine: Mediterranean