El Capricho Anchovy, Egg, Crouton & Crisp Lettuce Salad with a Creamy Vinaigrette
by James Williams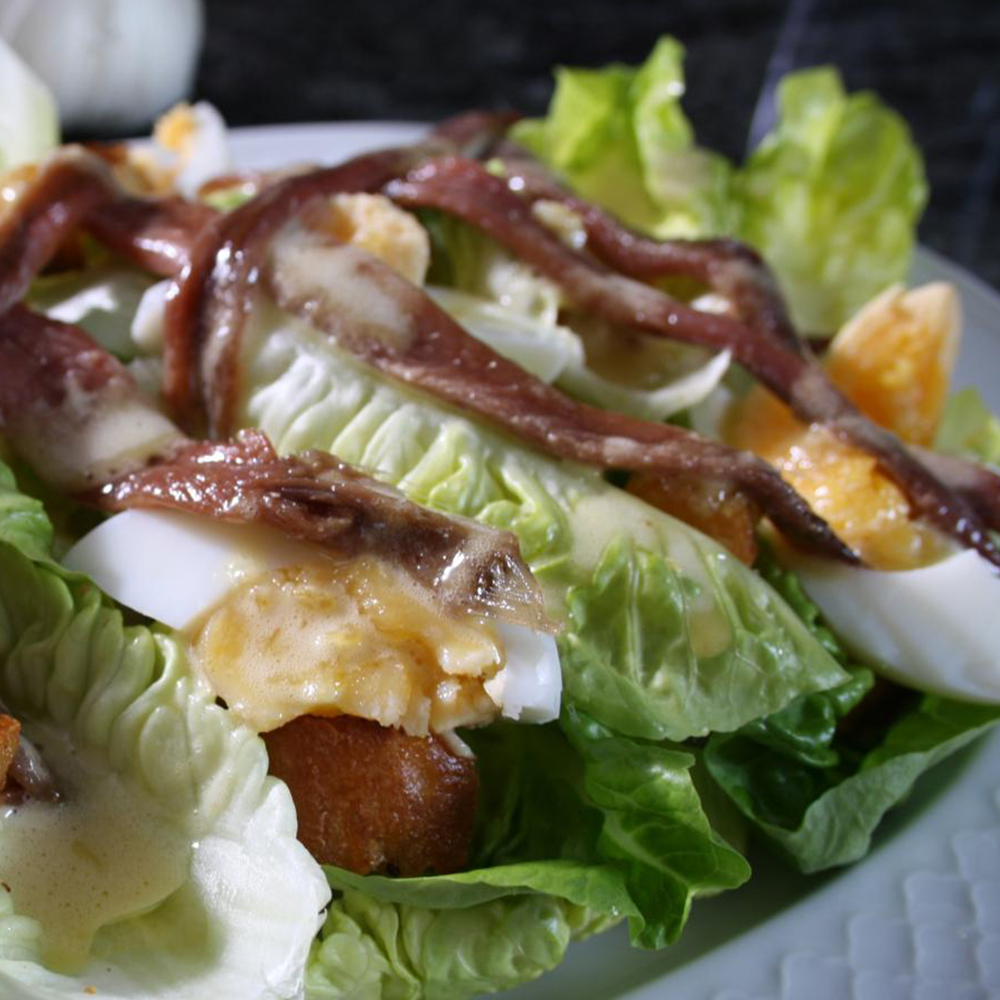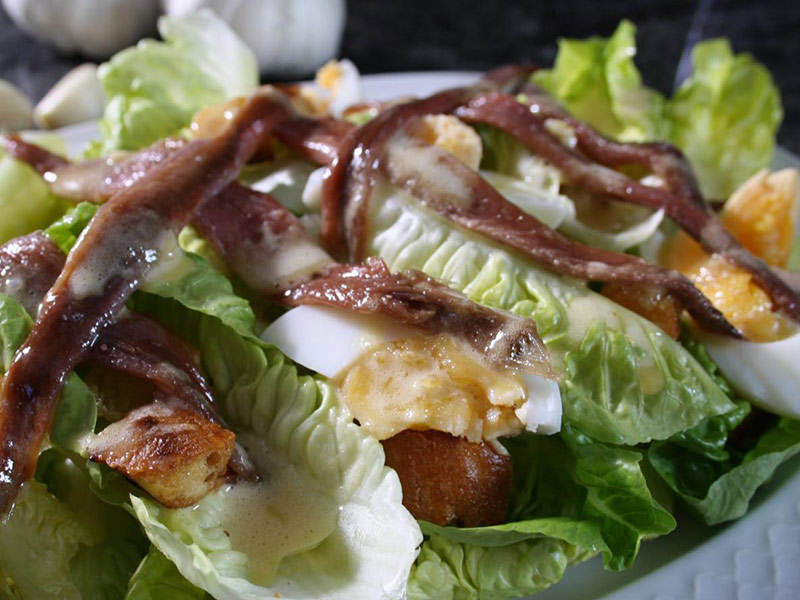 Print Recipe
INGREDIENTS TO GET READY

50g El Capricho Anchovies

1tbsp Spanish Passion Extra Virgin Olive Oil

3 Gem Lettuce

6 Medium Free-Range Eggs

4 Slices Crusty Bloomer, Cut 1cm Thick
For the Dressing

1 Small, Crushed Garlic Clove
1 Large Free-Range Egg Yolk
1tsp Dijon Mustard
2tbsp Lemon Juice
150ml Spanish Passion Extra Virgin Olive Oil
1/2tsp Caster Sugar
Sea Salt & Freshly Ground Black Pepper
PUT IT TOGETHER

1. For the croutons, preheat the oven to 180C/350F/Gas 4.

2. Slice the crusts from the bread and rip up into small bite-sized pieces. Toss them in a bowl with the extra-virgin olive oil. Spread onto a baking tray and bake for around 5-7 minutes or until crisp and golden-brown. Remove from baking tray and leave to cool, then season lightly with cracked sea salt.

3. Meanwhile, carefully place the eggs into a pan of boiling water and boil for eight minutes. Remove, drain and cover with cold water.

4. To prepare the vinaigrette dressing, place the egg yolk, crushed garlic, dijon mustard, lemon juice, sugar and some seasoning into a small bowl. Mix together briefly with a whisk, then slowly whisk in the oil to make a smooth creamy dressing.

5. Prepare the salad. Discard the outter leaves of the lettuce (if necessary) and tear the rest into small pieces. Rinse with water and dry well, then spread over the base of six serving bowls. Peel the cooked hard-boiled eggs and cut them into quarter pieces. Arrange four pieces over each plate of lettuce leaves and place four strips of El Carpricho anchovy fillets and a few croutons. Drizzle one tablespoon of vinaigrette over each plate and serve straight away.

6.

7. Feliz degustación!
Recipe Cuisine: Mediterranean