Harissa Roast Chicken, Charred Corn & Romesco Buttered Sweet Potatoes.
by Mark Prescott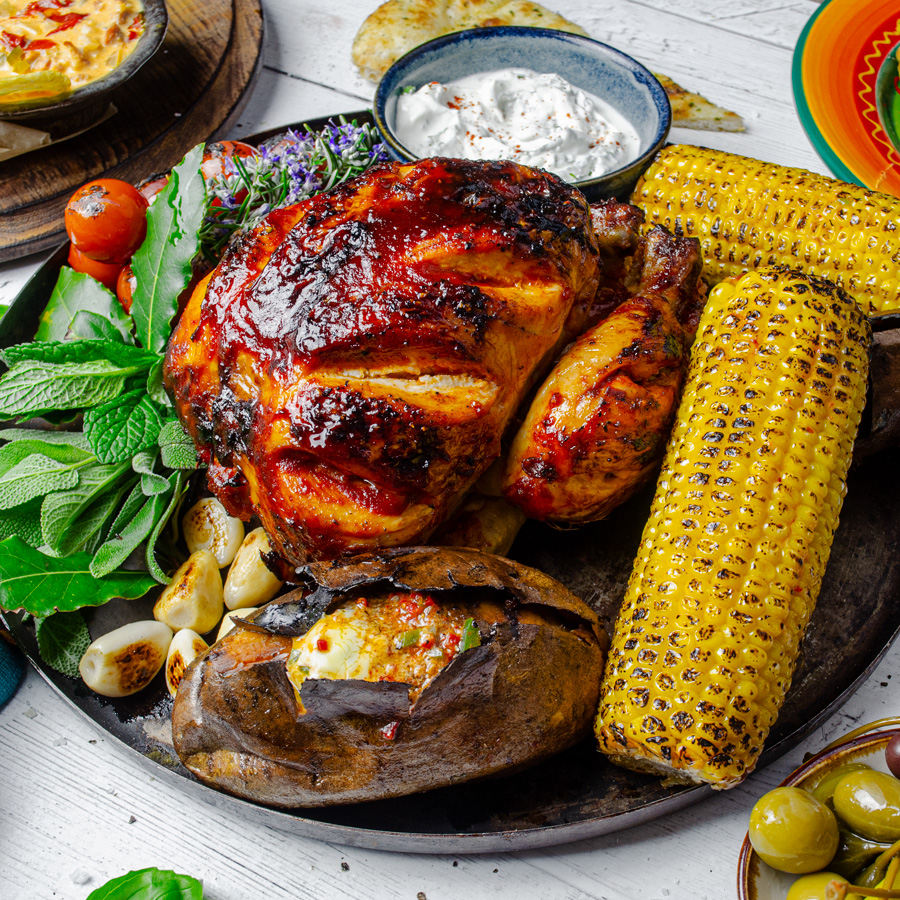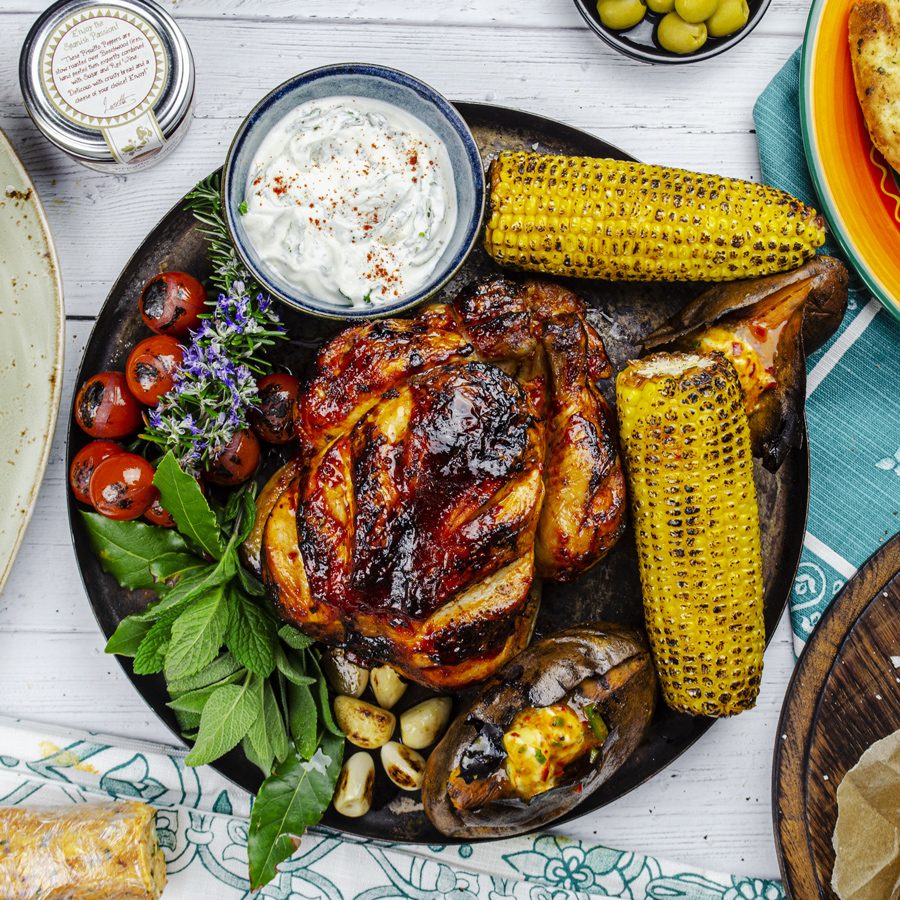 This makes a perfect dinner for a Balmy Summer Evening and any leftovers will work perfectly in quesadillas or a tasty frittata.

Print Recipe
INGREDIENTS TO GET READY

1 Roasting Chicken (1.5 kg)

4 Dessert Spoons Honey

160ml Harissa Sauce

2 Sweet Potatoes

2 Fresh Corn on the Cobb

1 Tablespoon Spanish Passion Allioli

200ml Sour Cream

20g Coriander

20g Mint

10x Cloves pickled Honey Garlic

100g Butter

100g Romesco Sauce

1 Small Red Chilli - de-seeded and finely chopped
PUT IT TOGETHER

1. Using a sharp knife score each chicken breast 3 times around 1cm into the flesh, do the same on each leg. In a small bowl combine the Harissa and Honey to form a glaze.

2. Season the chicken with salt and pepper and brush the glaze evenly over the full chicken. Wash the sweet potatoes, rub with oil and place on the tray with the chicken. Place both on a roasting tray and roast in a pre-heated oven at 160c for around 40/50 minutes. Baste the chicken occasionally with any juices.

3. Chop the Coriander and mint and mix through the sour cream, place in a small bowl with the Allioli.

4. When the chicken has been cooking for 30 minutes place the garlic cloves on the tray and allow to glaze in the cooking juices

5. Drizzle the corn with oil, season with salt and pepper, char in a hot dry frying pan or griddle plate until the kernels start to blister

6. When the Chicken is cooked remove from the oven, place on a suitable platter with the sour cream, slash the sweet potatoes with a sharp knife, squeeze gently to open up and top with a knob of Romesco butter.

7. Place on the serving platter with the chicken, add the sweet corn, glaze the corn with the garlic cloves and any sauce remaining in the roasting tray.
Recipe Cuisine: Mediterranean