Honey and Harissa Chicken Breasts, Lemon Risotto, Red Mojo Sauce.
by Mark Prescott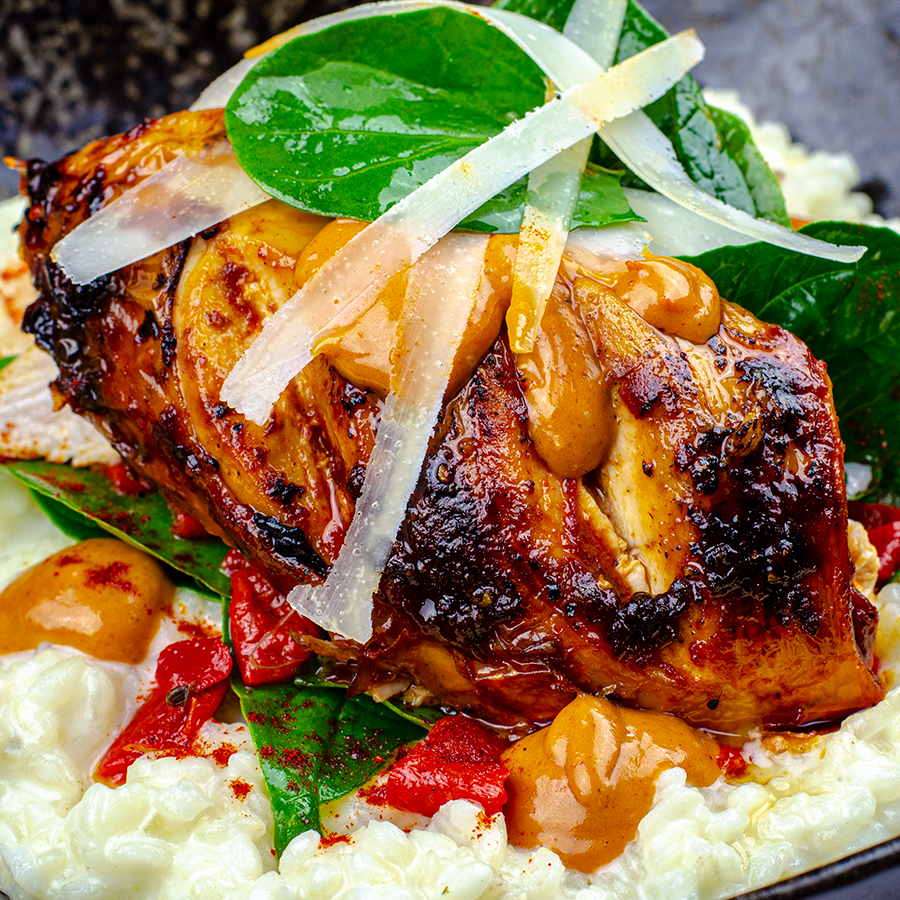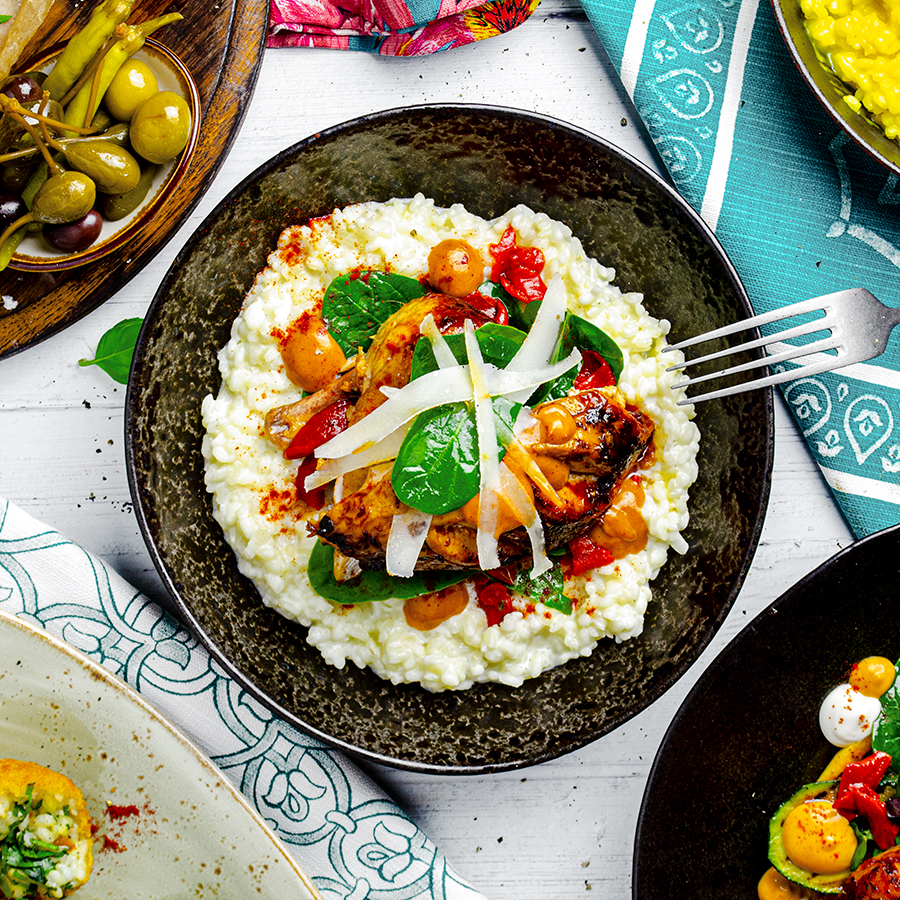 This dish makes a perfect summer evening dinner, the silky rice soothing the heat of the harissa and the lemon marrying all the flavours together.

Print Recipe
INGREDIENTS TO GET READY

4x 7/8oz Skin-on Chicken Breasts

4x Dessert spoons Honey

160ml Harissa Sauce

100ml Red Mojo Sauce

80g Red Bell Pepper Strips

100g Washed Baby Leaf Spinach

100g Manchego Cheese cut into 10 even sized cubes

20g Manchego Shavings

1x lemon, juice and zest
For the Risotto

400g Bomba Rice
1.2 litres Vegetable Stock
200ml Berceo Tempranillo Blanco
2x Medium Onions Finely Chopped
80g Crumble Manchego Cheese
4x dessert spoons Extra Virgin Olive Oil
Salt & Pepper to taste
PUT IT TOGETHER

1. Slash each Chicken Breast 3 times with a sharp knife going 1cm into the flesh, in a mixing bowl combine the honey and Harissa until smooth.

2. Evenly coat each chicken breast with the honey & Harissa marinade and leave for at least 2 hours or even better overnight.

3. In a heavy-based saucepan fry the onion in the olive oil until soft but without colour, add the rice and cook for 2/3 minutes, add the wine and reduce by half.

4. Add a couple of ladles of hot stock to the rice, stir and bring to a simmer, when the stock has absorbed add more - only stirring the rice when adding stock. The rice will take 15 minutes to cook and may not need all the stock.

5. Remove the rice from the heat, add the manchego crumb, lemon zest and juice, stir until the risotto is creamy. Season as required. Divide into 4 heated plates.

6. In a frying pan, seal the chicken breasts and gently cook, turning occasionally until cooked through - be careful not to burn. The breasts should be glazed and shiny.

7. 7. Place the spinach leaves in a mixing bowl along with the bell peppers, season and drizzle with a little oil, place the mixture in the centre of each plate.

8. Place the chicken breasts on top of the spinach, garnish with the manchego shavings and generous drops of Red Mojo Sauce. Enjoy! .
Other Notes: PS. Don't forget a bottle or two of chilled Berceo Tempranillo Blanco. Cheers! Mark
Recipe Cuisine: Mediterranean