There is a certain elegance to the combination of Mussels and Saffron enriched even further by the creamy risotto. This is a stunning and extremely photogenic dish and will make a memorable meal to suit any occasion.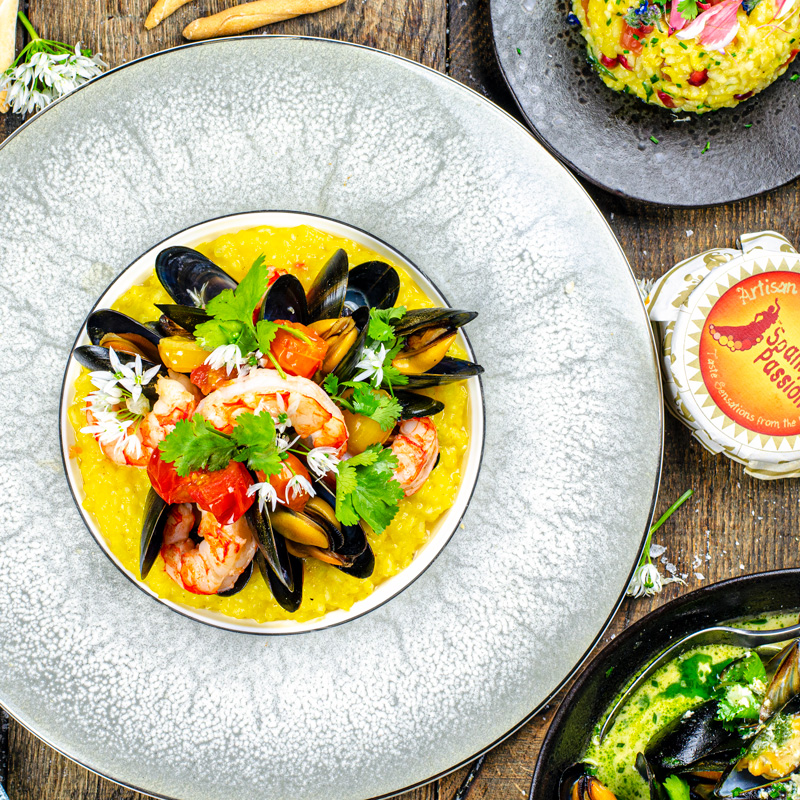 Saffron Risotto with Argentinian Red Prawns, Mussels and Cherry Tomatoes. Enjoy!
READY IN
30 minutes
PREP TIME
10 mins
COOKING TIME
20 minutes
SERVES
2
INGREDIENTS TO GET READY

8x Raw Peeled Argentinian Red Prawn Tails
500g Cleaned Mussels
10 x Multi-coloured Cherry tomatoes cut in half
1 x Large Banana Shallot Finely Chopped
2 x Cloves Garlic Smashed and chopped
2x Dessert spoons Ex Virgin olive oil
FOR THE RISOTTO

200g Bomba Rice
600ml x Vegetable Stock
100ml Tempranillo Blanco
1x Medium sliced onion (finely chopped onion)
1/4 g x Saffron strands
2x Dessert spoons Extra Virgin olive oil
40g grated Manchego Cheese
Salt and Pepper to taste
PUT IT TOGETHER

1. Heat 2 dessert spoons of oil in a sauce pan over a medium heat, add the chopped onion and gently soften for a couple of minutes without colour. Add the rice, stir gently for a minute or so, add the wine, reduce by half. Add the saffron and a couple of ladles of hot vegetable stock, gradually add more stock until the rice is cooked – only stir the rice when you add liquid. The rice should be cooked in around 15 minutes, remove from the heat stir in the Manchego cheese until smooth and creamy.
2. In a wok or shallow frying pan, heat two dessert spoons of oil. Add the mussels and toss a couple of times, add the garlic and shallots, add the prawns and tomatoes toss and cover with a lid.
3. Cook out for a couple of minutes constantly shaking the pan. Remove from heat.
4. Divide the rice between 2 serving bowls, spoon the Mussels, Prawns and tomatoes in the center of each dish, garnish with fresh coriander and edible flowers (optional).
5. Blanch your chosen vegetables in rapidly boiling salted water for a couple of minutes, drain and season. Add the rice to a serving bowl, place the vegetables in the center of the rice, garnish with peashoots and enjoy a taste of northern Italy!