Torta de Aceite with Cantabrian White Tuna, Cream Cheese & Romesco Sauce.
by Mark Prescott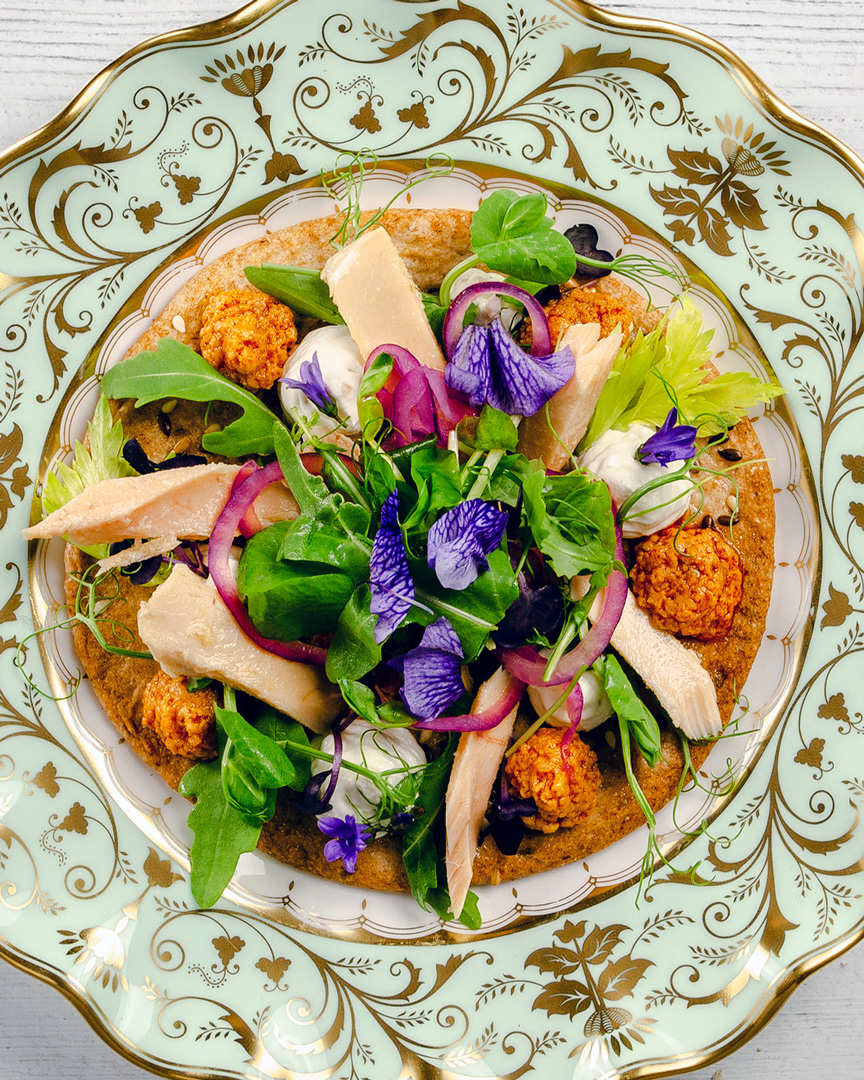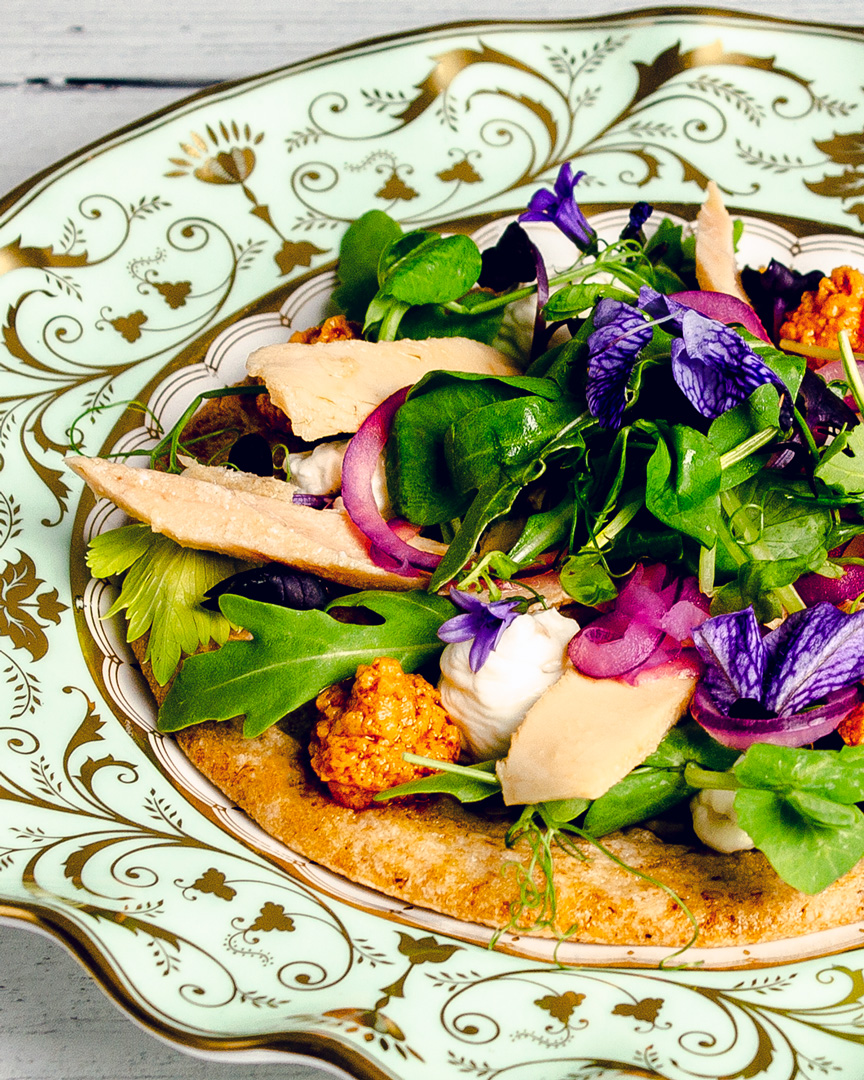 These delicate Tortas are light and crisp and this is a perfectly delicate, pretty, and delicious appetiser for a summer Al Fresco lunch or dinner, or even as an excuse to have a mid-afternoon nibble and a couple of glasses of wine.

Print Recipe
INGREDIENTS TO GET READY

2x Multi Cereal Torta de Aceite
150g White Tuna
50g Romesco Sauce

1x Baby Cucumber (finely Sliced)

1/2 Red Onion (finely sliced whole round)

2 x Rainbow Raddish (finely Sliced0

60g Watercress & Pea shoot Salad

1 x Dessert spoon lemon-infused Oil

Celery Leaves if Available

Edible Flowers Optional

Juice of 1/2 a Lemon
Cream Cheese

100g Cream Cheese
1x Shallot (finely chopped)
1 x Clove Garlic smashed and finely chopped
Add the chopped garlic and shallots to the cream cheese and whisk till stiff.
PUT IT TOGETHER

1. Place the cream cheese into a disposable piping bag, likewise for the Romesco sauce, Lay the cereal wafers onto a flat surface or directly onto your serving plates, on each wafer pipe 5 or 6 mounds of both cream cheese and Romesco.

2. Place the sliced onions into a small ceramic bowl sprinkle with salt and add the lemon juice,mix well, within a couple of minutes you will have a beautiful crisp purple pickle, leave for 5 minutes and then drain in a sieve.

3. Flake the Tuna into nice large flakes and divide between the two wafers.

4. Dress the salad leaves with the lemon oil and now get creative and fashion a delicate garden on each wafer using the dressed leaves, sliced cucumber and Raddish, finish with the onion pickle, celery leaf, and edible flowers if you are using them. You should have a beautiful delicious edible garden on your plate.
Other Notes: Spanish Passion <a href="https://www.spanishpassionfoods.co.uk/romesco-sauce/">Romesco Sauce </a> El Capricho <a href="https://www.spanishpassionfoods.co.uk/el-capricho-bonito-del-norte-longfin-white-tuna-in-extra-virgin-olive-oil/">Cantabrian White Tuna</a>