Sweet Paprika and Chorizo Scotch Eggs with Bravas Ketchup
by Mark Prescott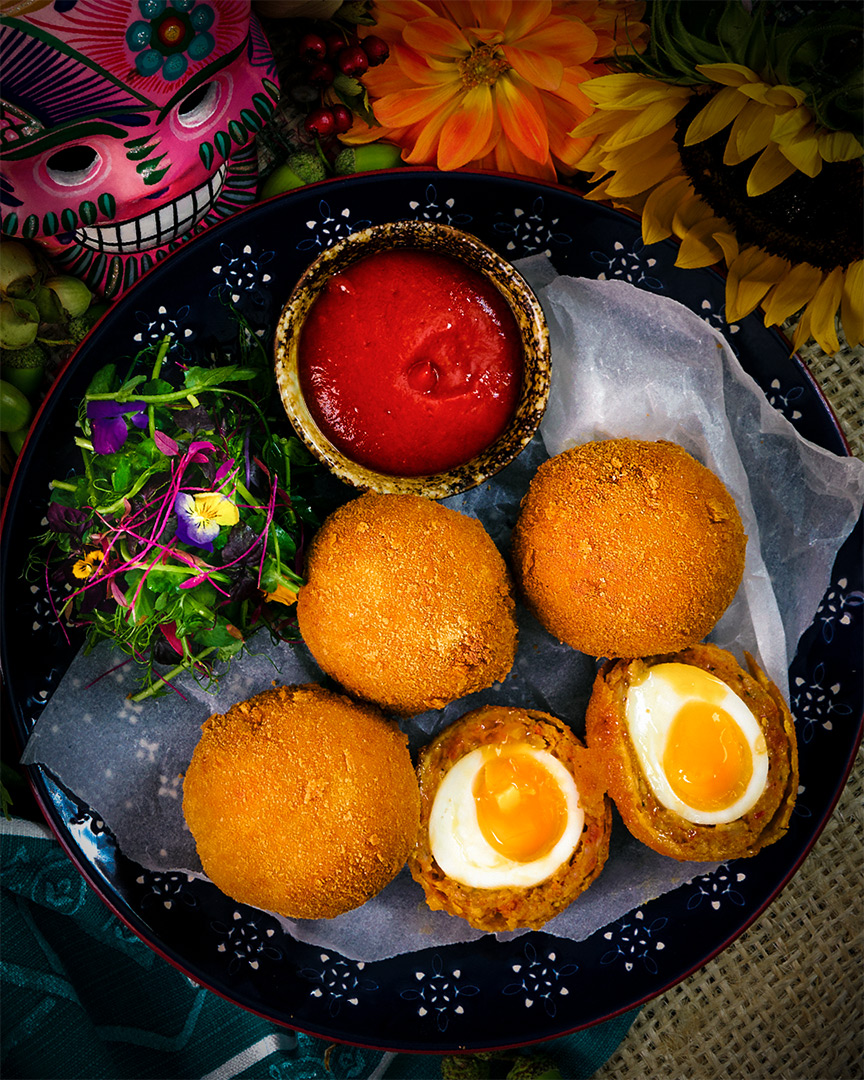 Print Recipe
INGREDIENTS TO GET READY

6 x Large Eggs

200g x Cumberland Sausage Meat

150g x BBQ Chorizo (remove skin)

1x Teaspoon Sweet Smoked Paprika
150g x Plain Flour
150g x Panko Breadcrumbs
100ml x Bravas Sauce
200ml x Tomato Ketchup
PUT IT TOGETHER

1. Cook the Eggs in a pan of rapidly boiling water for 4 minutes, then refresh in iced

2. water to halt the cooking process. Once the eggs are cold carefully peel and refrigerate to set

3. Remove the skin from the chorizo and break down to a paste using a food processor. When the Chorizo is broken down add the Cumberland sausage meat and mix well. Add the Paprika and season with salt and pepper if necessary. Remove the mix from the processor and form 4 evenly sized balls

4. With wet hands flatten each ball into a sheet approximately 4/5mm thick and roll the eggs gently in flour until they are completely coated. Place a egg in the center of each sausage meat sheet, pull the edges together to completely encase the eggs and gently roll in your palms to form a perfect round shape

5. Beat the remaining two eggs together to form a egg wash, roll the eggs through the flour, then through the egg wash and finally through the Panko, ensure the eggs have a good even crumb. Refrigerate for an hour to set and dry

6. Mix the Bravas sauce and ketchup together and whisk till smooth

7. Deep fry the Eggs at 160°C for approximately 5 minutes until crisp and golden brown. I prefer to eat Scotch eggs while they are still hot but they are equally as good cold.
Recipe Cuisine: Mediterranean