Kofta-Style Harrisa Kebabs, Fattoush Salad, Flatbread and Harrisa Mayonnaise
by Mark Prescott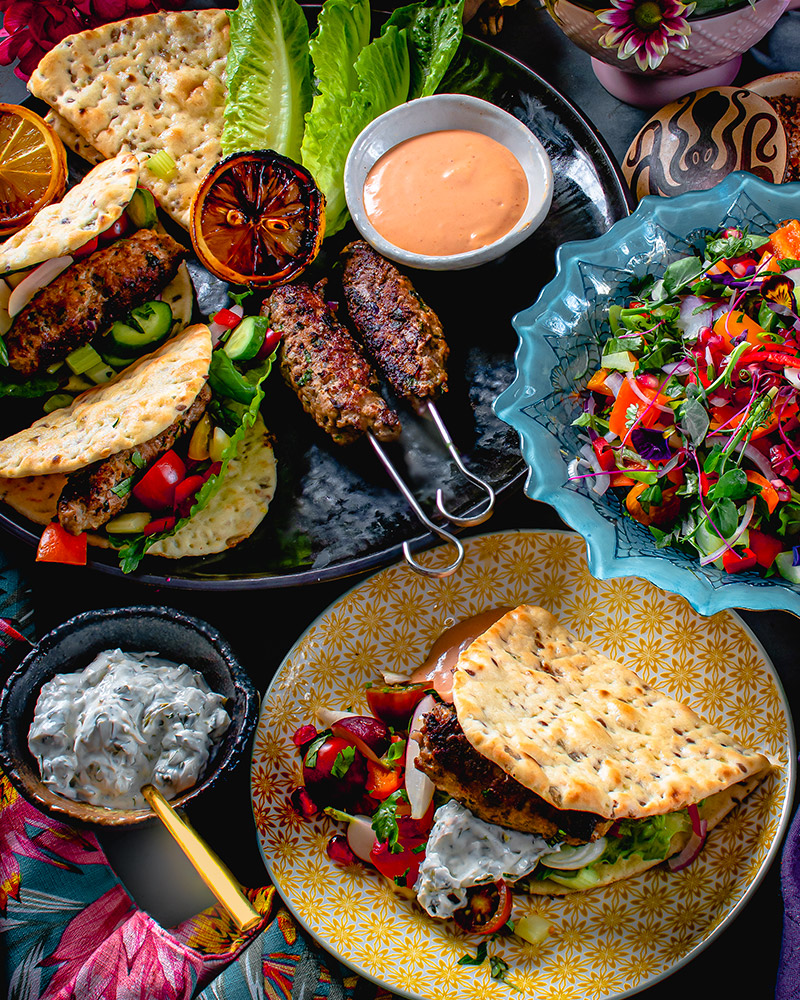 Print Recipe
INGREDIENTS TO GET READY

500g Finely Minced Lamb

2 x Cloves garlic smashed and finely chopped

1x Onion Finely Chopped

1x Teaspoon Ground Cumin

1x Teaspoon Sweet Smoked Paprika

100g Panko Breadcrumbs

20g Coriander (chopped)

10g x Flatleaf Parsley Finely Chopped.

20ml Harrisa Sauce

Salt and Pepper to taste
Fattoush

1x Baby Gem roughly Chopped
6 x Raddish cut in segments
200g Mixed Coloured Cherry Tomatoes halved
2x Lebanese Cucumbers. Sliced
4x Spring Onions finely Sliced
1 x Red Pepper 5mm Diced
10g Flat Leaf Parsley
10g Mint
Pinch Sumac
Salt and pepper to taste
2x dessertspoons Lemon Infused Oil
10g Coriander
Place all ingredients into a bowl and mix well
Minted Yoghurt

200ml Extra Thick Yoghurt
1x Dessertspoon Mountain Honey
10g Mint 10g Corriander both Finely chopped.
Salt and Pepper
1x Pinch Sweet Smoked Paprikia.
Add all ingredients to the Yoghurt and Mix Well
PUT IT TOGETHER

1. Place all the ingredients for the Kebabs into a mixing bowl and mix till all the ingredients are bound and thoroughly mixed. Divide the mix into four and roll into thighs balls,roll the balls into sausages and mould onto your skewers,(if using wooden skewers soak in water for a least an hour to prevent burning).

2. Place the kebabs on a hot grill plate or BBQ and cook for approximately 8 minutes continually turning to prevent burning.

3. Once cooked serve the Kebabs with Warm grilled Flatbreads, lashings of yoghurt and scoops of the delicious Fattoush Salad.
Recipe Cuisine: Mediterranean