Harissa and Mountain Honey Baked Cauliflower
by Mark Prescott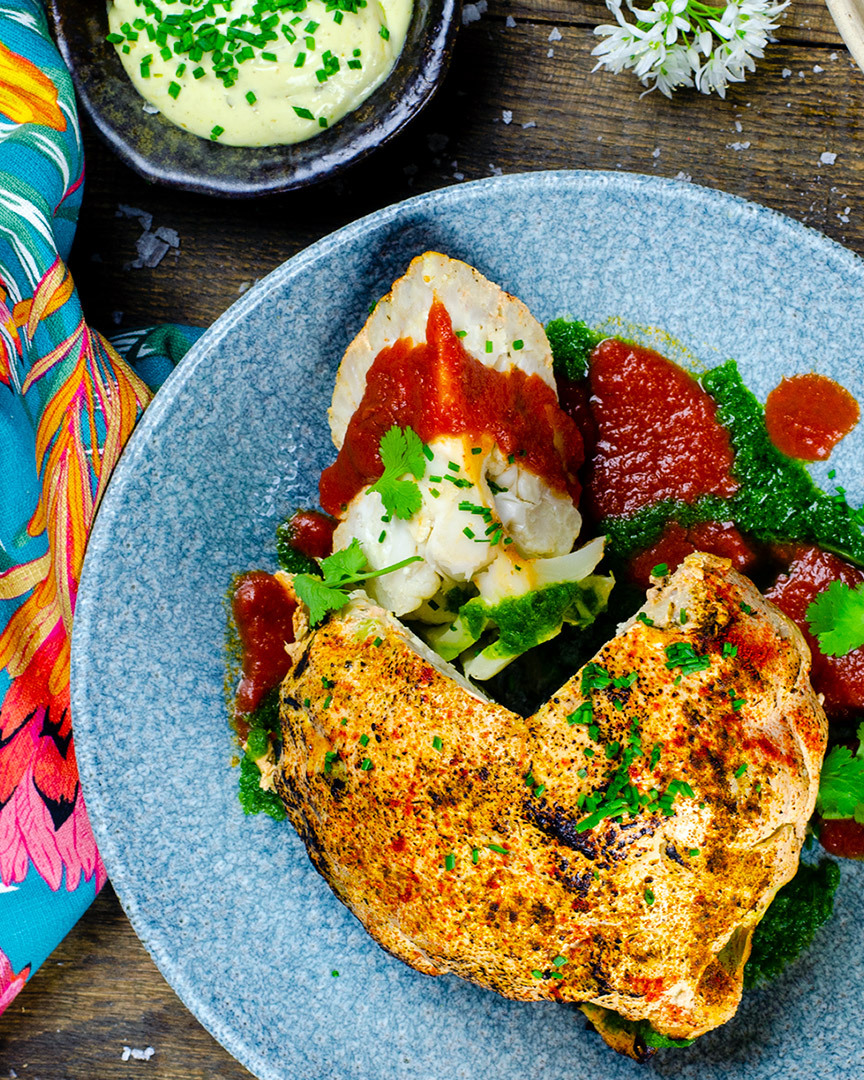 Serve as a sharing main course or a dig in family side order. This is a stunning way to present and impress with a simple vegetable and is a fitting centrepiece for any occasion.

Print Recipe
INGREDIENTS TO GET READY

1 x Large Cauliflower

150ml Harissa Sauce

100ml Mountain Honey

250ml Extra thick Greek Honey

1 x Teaspoon Sweet Paprika

1 x Teaspoon Paella Spice

Salt and pepper

400ml Frito sauce
Coriander Oil

50g Fresh Coriander
100ml Extra Virgin Olive Oil
In a saucepan bring the oil to 80°c, add the Coriander and Liquidise till smooth. Chill over ice to intensify colour.
PUT IT TOGETHER

1. Remove the outer leaves from the Cauliflower, bring a pan of salted water to a rapid boil and cook the Cauliflower for 4 minutes. Remove the cauliflower from the water and allow it to steam itself dry do not refresh

2. Pace the yoghurt into a mixing bowl add the harissa, honey, paprika,and paella spice. Mix well to form a paste.

3. Place the Cauliflower onto a flat surface and season with salt and pepper. with a spatula encase the whole Cauliflower in the Harissa paste, place onto a baking tray and place in a preheated oven 160°c for approximately 1hour till the Cauliflower is cooked through. Test with sharp pairing knife - there should be no resistance

4. Serve with hot Frito Sauce and drizzle with Coriander oil
Recipe Cuisine: Mediterranean