Grilled Chicken Kebabs with Catalonian Sauce
by Dianne Raisbeck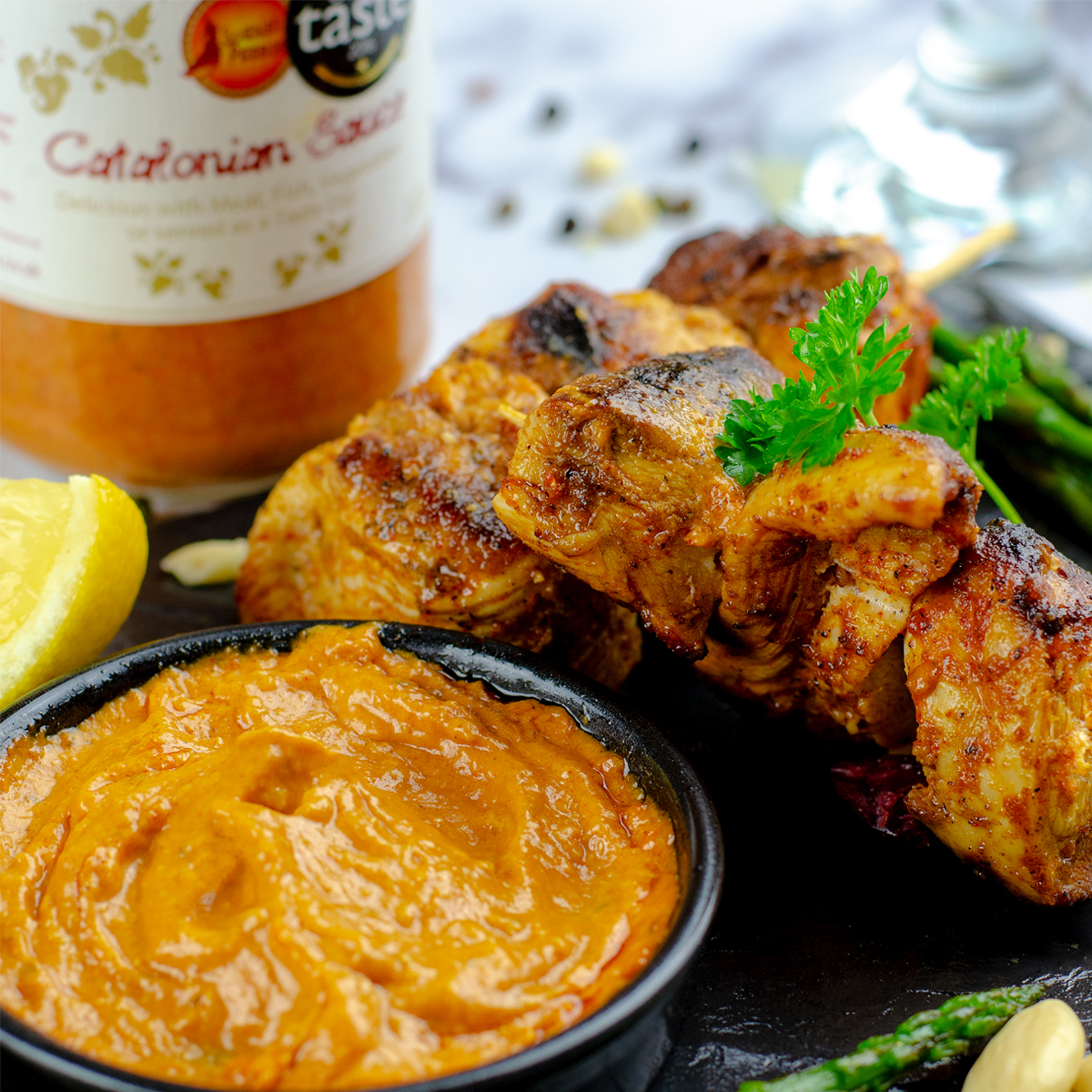 Print Recipe
INGREDIENTS TO GET READY

8 wood or metal skewers

1 Jar Spanish Passion Catalonian Sauce

2 pounds boned, skinned chicken breasts, cut into 1 1/2-in. cubes

1/2 cup chopped fresh Coriander

1/4 cup Spanish Passion Extra Virgin Olive Oil

2 tablespoons fresh lime juice

2 teaspoons minced garlic

1 teaspoon coarse kosher salt

1 teaspoon Spanish Passion smoked paprika

1/2 teaspoon freshly ground black pepper

2 bunches green spring onions, root & ends trimmed
PUT IT TOGETHER

1. If using wood skewers, soak in cold water at least 30 minutes before using.

2. In a large bowl or resalable plastic bag, combine chicken, coriander, 3 tbsp olive oil, lime juice,  garlic, salt, smoked paprika, and pepper. Toss to coat, then marinate, chilled, 25 minutes.

3. Preheat a gas or charcoal grill to medium-high (so you can hold your hand 1 to 2" above cooking grate for only 3 to 4 seconds).

4. Thread chicken onto skewers, discarding marinade.

5. Drizzle green onions with remaining 1 tbsp olive oil.

6. Lay skewers on grill (cover if using gas) and cook 4 minutes.

7. Meanwhile warm the jar of Catalonian Sauce over a medium heat

8. Turn skewers over, cook for a further 4 minutes.

9. Lay green onions on grill, cook until chicken is browned and cooked through and onions are charred in places. Serve hot, accompanied by hot Catalonian sauce.
Recipe Cuisine: Mediterranean