Eggs in a Hole
by Mark Prescott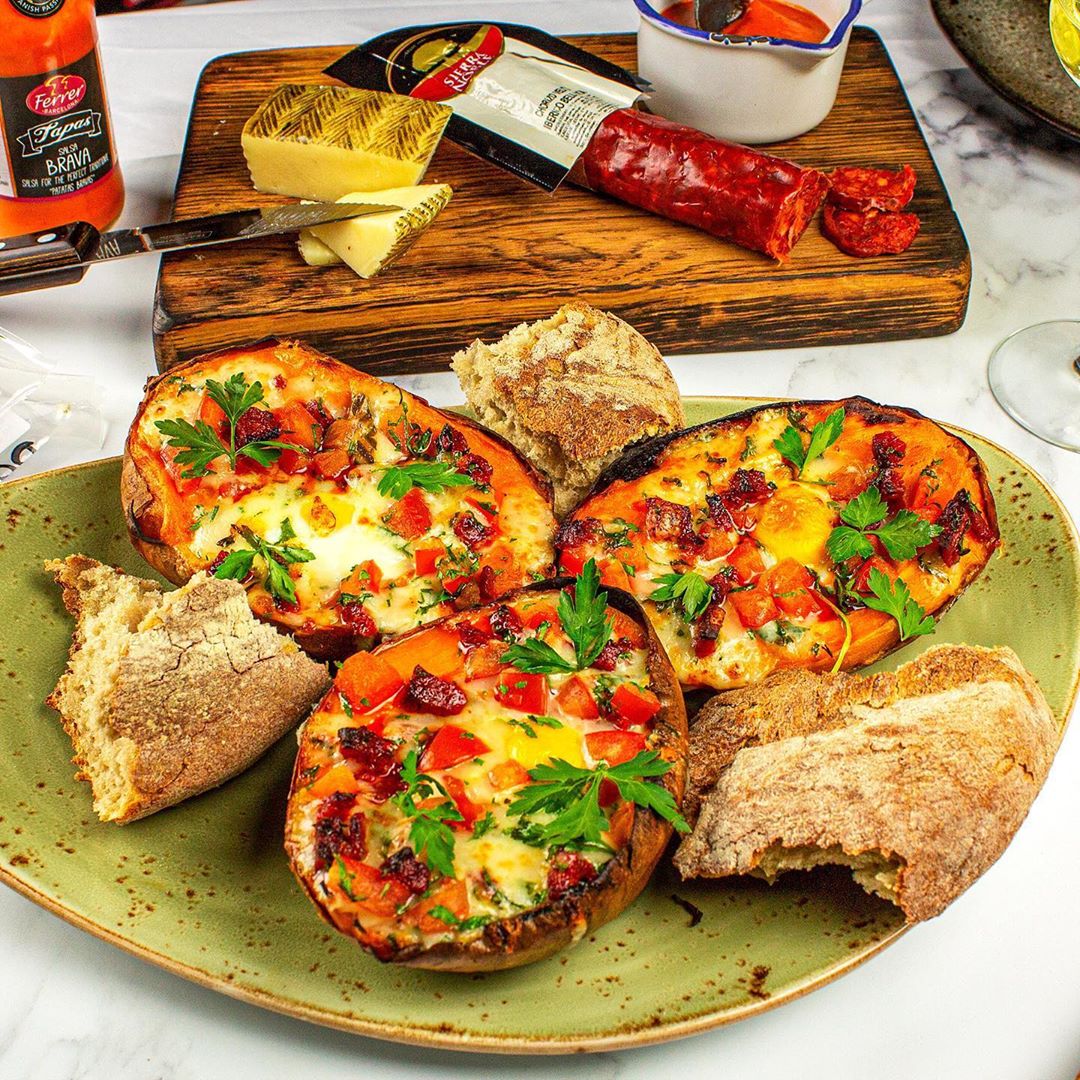 This dish is a very tasty brunch or light lunch snack, try with a little Bravas Sauce, and some well-chilled Spanish Beer straight from the fridge.

Print Recipe
INGREDIENTS TO GET READY

2x Large Sweet Potatoes

4 x Medium Eggs

100g Iberico Bellota Chorizo

1 x Large Vine tomato (1/4 Remove seeds and cut into small dice)

100g Queso en Manteca y Romero (cut into small dice or grated )

Flat leaf Parsley (to garnish)

4x Dessert Spoon Extra Virgin Olive Oil

Salt & Pepper

Pinch of Sweet Smoked Paprika
PUT IT TOGETHER

1. Pre heat oven to 180°C, rub the potatoes with the olive oil, place on a baking tray and bake for approximately 40minutes (rubbing the potatoes in oil will give a really crispy skin)

2. Remove the potatoes from the oven and cut in half. Using a dessert spoon scoop out the centre of the potato to create a well

3. Crack an egg into each well, season with salt and pepper and return the potatoes back to the oven for a further 5/6 minutes

4. Meanwhile, mix the diced tomatoes, cheese and chorizo in a mixing bowl with a dessert spoon of chopped flat parsley, season to your taste

5. Bake the potatoes from the oven, they should just be starting to cook and set. Sprinkle the cheese and chorizo mix on the surface of the potatoes leaving the yolks exposed, return to the oven for 4/5 minutes until the eggs are cooked and the cheese mixture is golden brown and bubbling
Other Notes: Retain the scooped out centres of the Sweet Potatoes to make a delicious dip. Blend with 200ml thick mayonnaise, 2 cloves of garlic and a dessert spoon of tomato purée to make a delicious Sweet Potato Aioli which will keep in the fridge for 4/5 days.
Recipe Cuisine: Mediterranean