Blooming Onions
by Mark Prescott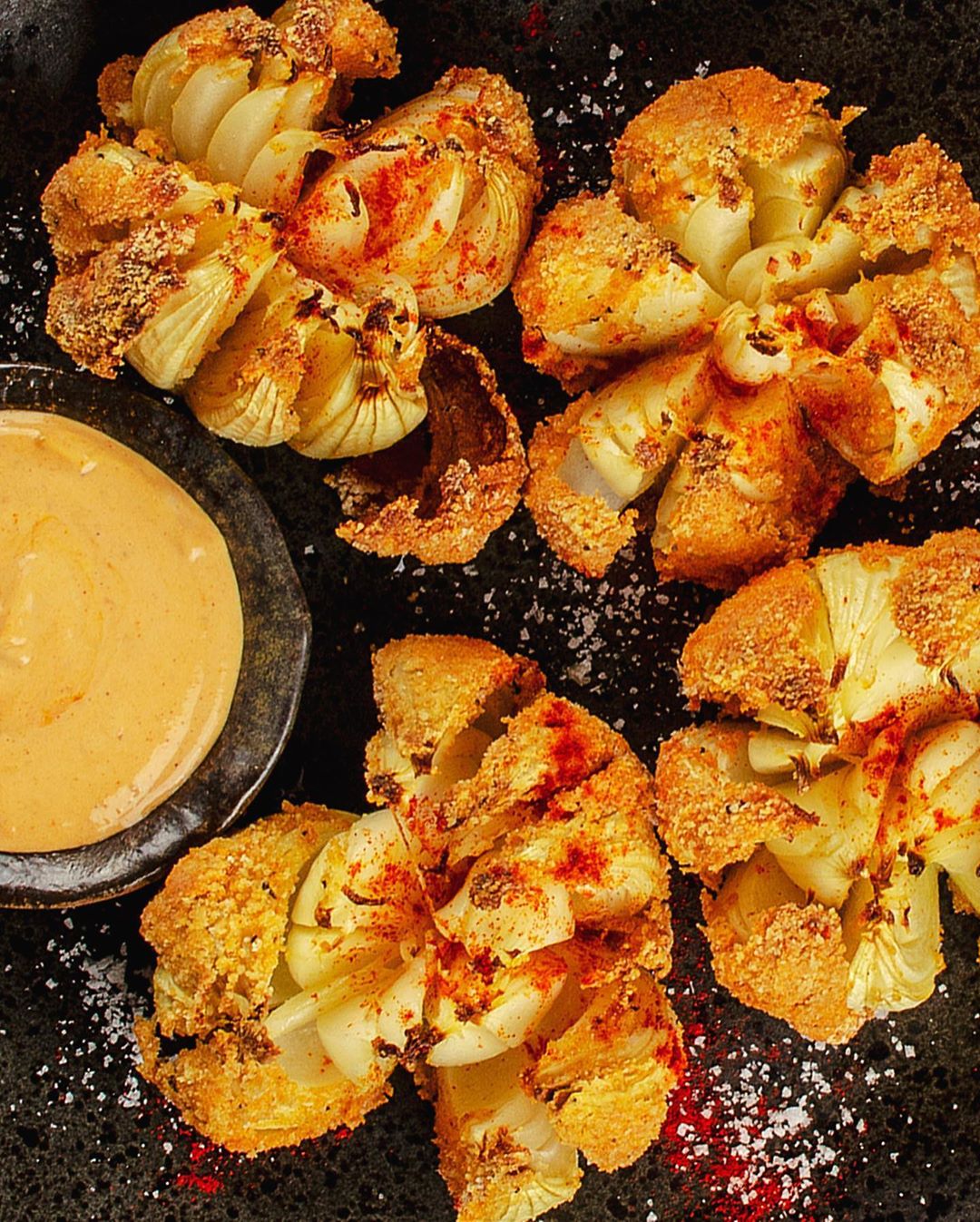 This is a lighter version of the deep fried American classic which I first had in New York 10 years ago awesome but oily, great beer food and so tasty yet so simple.

Print Recipe
INGREDIENTS TO GET READY

4 x Large Spanish Onions

4 x Egg Whites

160g Pandora Breadcrumbs

20g Polenta

60g Plain Flour

Salt and pepper

1x Generous pinch Sweet Paprika

Spray Oil
Harissa Mayonnaise

200g Thick Mayonnaise
50ml Harissa
Place in a mixing bowl and whisk till smooth.
PUT IT TOGETHER

1. Prepare the onions peel the onions from the root to the tip leaving both root and tip intact.place the onions on a flat surface and with a very sharp knife cut each onion into 8 segments to within a centimetre from the base

2. Gently tease the onions open into petals and place o a baking tray.

3. Put the egg whites into a mixing bowl and whisk till light and fluffy, mix the Panko, polenta, flour, paprika and seasoning in a separate bowl and mix well.

4. One at a time dip the onions into the egg white getting as much coverage as possible making sure all the petals are covered.place the onion on a baking tray and again gently open up the petals if necessary.

5. Once the onions have opened up sprinkle with any remaining crumb, season with salt and pepper and spray generously with oil.

6. Cover the tray with foil, and bake in a pre heated oven 160c for 20 minutes.

7. Remove the tray from the oven ,remove foil .and encourage the petals to open if needed.bake uncovered for a further 20 minutes until the onions are soft and sweet but very crispy. Serve with copious amounts of Harissa mayonnaise to dip.
Recipe Cuisine: Mediterranean