Asparagus and Chorizo Tortilla Tarts
by Mark Prescott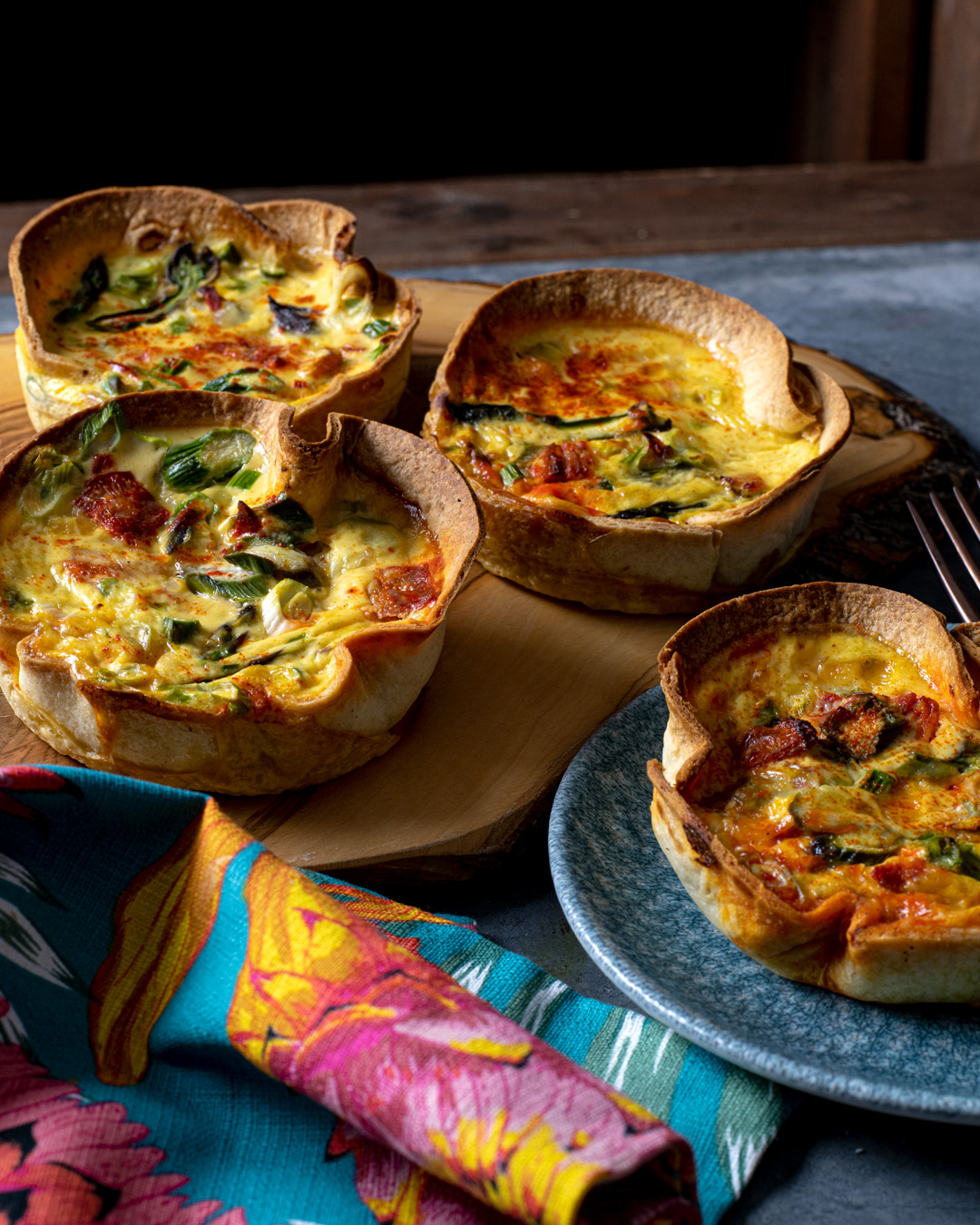 These small crunchy Asparagus and Chorizo tarts can be eaten hot or cold and make a great addition to a Tapas evening or picnic, and using the base custard you can add any filling you wish. Happy Cooking!

Print Recipe
INGREDIENTS TO GET READY

4x Small Flour Tortillas

10g Fresh Coriander (chopped)

250ml Single Cream

50ml Creme Fraiche

2 x Whole eggs(large)

1x Egg Yolk (large)

100g Grated Manchego

50g x Grated Parmesan

1x Desert spoon English Mustard

50g Sliced Chorizo Gran Vela(chop into small dice)

4x Spears Thick English Asparagus

50g Piquillo Peppers in Garlic

100ml Arroniz Olive Oil

1x Generous pinch Sweet Smoked Paprika
PUT IT TOGETHER

1. Brush the tortillas on both sides with the olive oil, mould into a Yorkshire pudding tin or Muffin Tray, line with cling film and fill with baking beans or rice.Cook in a pre heated oven 180c for around 8/10 minutes until the shells are Golden brown

2. In a mixing bowl whisk the egg and egg yolks well.season with salt and pepper and add the cream and creme fraiche beat till the mix is smooth.

3. Blanch the Asparagus for 1 minute in rapidly boiling salted water and refresh in iced water, dry and slice into rounds.

4. Add the Asparagus ,Chorizo, English mustard, Parmesan and Manchego to the custard and mix well.

5. Remove the lining from the tarts.add fill with the custard mix .get as much filling in the tarts as possible, sprinkle with Paprika and bake in a pre heated oven at 150c for approximately 20/25 minutes till the custard has just set.

6. Allow the tarts to cool for 5 minutes before eating.
Recipe Cuisine: Mediterranean