At the heart of this simple tasty dish is Pisto which combines the very best Mediterranean Vegetables, slowly cooked and infused with the Finest Olive Oil.
A Taste Sensation when combined together with the very best British Ham & Cheese!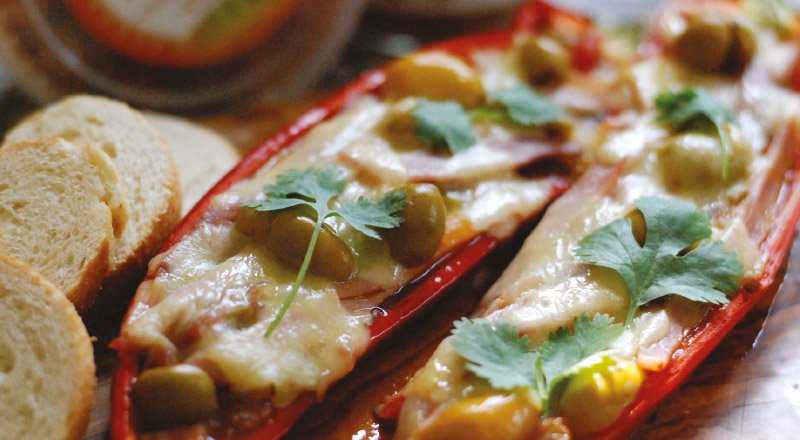 Serving Suggestion
Goes great with Crusty Bread – Delicious as a Starter or Snack
READY IN
40 minutes
PREP TIME
30 minutes
COOKING TIME
10 minutes
SERVES
2
INGREDIENTS TO GET READY

2 Sweet Ramiro Peppers
1 x Jar of Spanish Passion Pisto Add to Cart
12 Spanish Passion Farmhouse Recipe Green Olives (pulled apart and de-stoned) Add to Cart
1 thick slice of British Ham (sliced into thin slices)
A generous drizzle of Spanish Passion Arbequina Extra Virgin Olive Oil. Add to Cart
Salt and Pepper to Taste.
4 stems of Fresh Coriander using only the leaves
80grms of Creamy Lancashire Cheese (or a British Cheese of your choice) grated or thinly sliced.
HOW TO MAKE IT

1. Slice the Peppers in half lengthways leaving the stalks intact and remove the seeds.
Place them onto a baking tray and pre-heat your oven to 200 degrees C.
2. Season the Peppers and drizzle with Olive Oil.
3. Fill the Pepper cavities evenly with the Pisto and decorate the the Olives and Ham.
4. Sprinkle with the Cheese and place into the oven and bake for 10 mins or until the Peppers starts to blister and the Cheese starts to bubble.
Add recipe items to your basket