Gazpacho & King Prawns makes for a perfect start to any alfresco dinner on a hot summer day. Try with Sweet Paprika Popcorn instead of bread for a different twist and……don't forget the wine, chilled crisp Berceo Sauvignon Blanc would be perfect!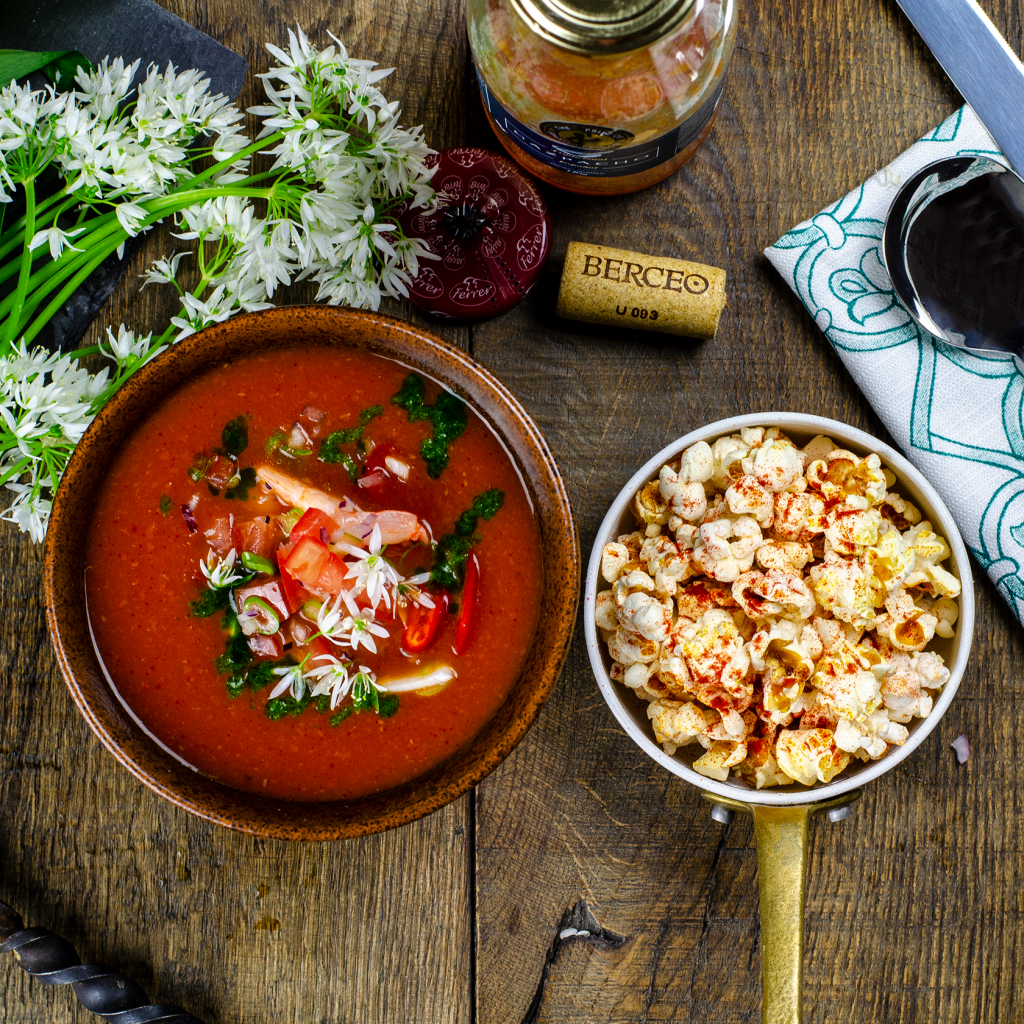 Gazpacho & King Prawns
READY IN
10 minutes
PREP TIME
5 mins
COOKING TIME
0 minutes
SERVES
4
INGREDIENTS TO GET READY

2x Jars Gazpacho Add to Cart
10no x Cooked and Peeled King Prawn Tails
1 x Medium Round tomato (cut into segments and remove seeds)
1 x Small Red Onion (finely Chopped)
BASIL OIL

100g Extra Virgin Olive Oil Add to Cart
50g Fresh Basil
POPCORN

100g Popcorn Kernals
50ml Cooking Oil
1/2 Teaspoon Sweet Smoked Paprika Add to Cart
HOW TO MAKE ARANCINI

1. Cut the tomato segments into fine dice, place in a small bowl and mix with the chopped onion, prawn tails and a pinch of paprika, season with salt and pepper to your personal taste.
2. To prepare the basil oil, heat the Olive Oil to 70°c add the basil. Remove from heat and liquidise until smooth, chill over ice as quickly as possible to retain colour.
3. Place a heavy-bottomed saucepan over a medium heat add the oil and throw in a few corn kernals. When the kernals start to pop the oil is ready. Add the remaining popcorn and cover with a lid, you will hear the corn bursting and bouncing, shake well and remove from the heat. Remove the lid sprinkle with the paprika and a touch of salt. Shake well. Ready To Serve.
4. Pour the chilled Gazpacho into your soup bowls, garnish with the prawn mix and drizzle with Basil Oil. Garnish with Edible flowers or fresh herbs. We used wild Garlic flowers as they were in Season.